Search
Search Criteria
Products meeting the search criteria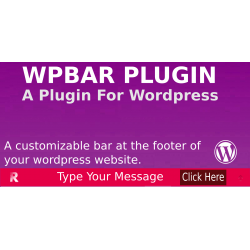 WP BAR Plugin For Wordpress (wp-bar-plugin)
WP BAR Plugin, A customizable bar at the footer of your wordpress website.This Plugin display fixed bar in footer on large screen (Desktop Only not for mobile). Admin can use internal link or external link from this plugin. 
Easy to install

Easy to Customize

Chnage colors

Compatible with All Wordpress Themes and Wordpress Version 
No , need for customisation of this plugin.
Step 1 : After purchasing you will see "wp_bar_plugin.zip", just extract this zip in your laptop. 
Step 2: After Extract you can see 2 Folder "Documentation" & "Upload". 
Step 3: Open "Upload Folder" and see "wp_bar_plugin.zip". 
Step 4: Now, upload "wp_bar_plugin.zip" in your wp-admin under the plugin menu. 
Step 5: After upload this plugin, you need to install . 
Step 6 : After Install , you can see "WP Bar Plugin" Submenu, Under the "Settings" Menu of your wordpress Dashboard. 
Step 7 : Now , Click on "WP Bar Plugin" and configure this plugin, and you will see WP Bar Plugin Configuration Page as per below Screenshot.



| | |
| --- | --- |
| Supported CMS | WordPress 4.4, WordPress 4.3, WordPress 4.2, WordPress 4.1, WordPress 4.0, WordPress 3.9, WordPress 3.8, WooCommerce 2.5.x, WooCommerce 2.6.x, WordPress 4.5, WordPress 4.6, WordPress 4.7, WooCommerce 2.7.x, WooCommerce 3.0.x, WooCommerce 2.8.x, WooCommerce 2.9.x, WordPress 4.8, WordPress 4.9 |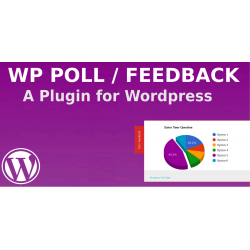 Poll or Feedback Wordpress Plugin (wp-poll-plugin)
This plugin is used to create poll or feedback for your users with beautiful Pie Chart Results. 
- Easy to install
- Easy to Customize
- Compatible with All Wordpress Themes and Wordpress Version 
- Beautiful Pie Chart Result
- Admin can put own questions and answer for Poll or Feedback
- Maximum Options will display Limit 6 Only
- No need to modify any php file or plugin for using our Poll Plugin
- Easy Plugin Setting
- User can change the Option Button color
- User can change the Option Button background color
- User can change the Poll Button color
- Full Access of poll plugin from wp-admin
- Multi language : Admin can put content in their own language
Wordpress Install on our own website

Php and sql versions as per wordpress version

Firebase Account
Step 1 : Open https://firebase.google.com/
Step 2: After login click on "go to Console"
Step 3 : Add New Project
Step 4: Enter Project Name, then accept the terms and condition and click "Create Project" button. 
Step 5 : Click on "Develop" menu in left sidebar 
Step 6 : Click on "Database" Under the "Develop" Menu 
Step 7 : Now Click on "Create Database" button 
step 8 : Select "Start in Locked Mode" option and click on "Enable" button as per screenshot
step 9 : Select "Realtime Database" from top bar in the nearby "Database" title as per screenshot. 
Step 10 : Click on "rules" tab and paste below code 
{ 
"rules": {
 ".read": true,
 ".write": true
 } 
}
then click on publish button. 
Step 11 : Just copy that it should display like : https://your-project-name.fire... 
Step 12 : Put https://your-project-name.fire... this link in wordpress plugin as per screenshot fro plugin configuration



| | |
| --- | --- |
| Supported CMS | WordPress 4.4, WordPress 4.3, WordPress 4.2, WordPress 4.1, WordPress 4.0, WordPress 3.9, WordPress 3.8, WooCommerce 2.5.x, WooCommerce 2.6.x, WordPress 4.5, WordPress 4.6, WordPress 4.7, WooCommerce 2.7.x, WooCommerce 3.0.x, WooCommerce 2.8.x, WooCommerce 2.9.x, WordPress 4.8, WordPress 4.9 |