Search
Search Criteria
Products meeting the search criteria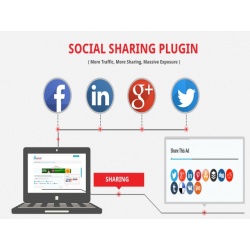 Social Sharing Plugins For Osclass (social_osclass_rackons)
Total Sales : 93
Plugin Name: Social Sharing
Plugin URI: http://www.rackons.com
Version: 1.1.5
Author: Rackons
Author URI: http://rackons.com
Author Email: info@rackons.com
Short Name: social-sharing
Share an Item on All Social Networking including Rackons, Facebook, Linkedin, Twitter, Google+, Pinterest, Digg, Delicious, Stumbleupon, Reddit, Tumblr etc. Use this social sharing plugin without javascript. Use only this Short code " wherever you want. i.e item-sidebar.php, item.php
Changelog Social Sharing 1.1.5 - 16-01-2018
-----------------------------------------
- New Rackons Social Share icon added
Changelog Social Sharing 1.1.2 - 12-10-2016
-----------------------------------------
- url encoded.
- Facebook, Linkedin, Twitter, Google+, Pinterest, Digg, Delicious, Stumbleupon, Reddit, Tumblr added.
- Images compressed.
- Use only this Short code wherever you want. i.e item-sidebar.php, item.php .
- No Javascript.
For Demo :
Live Demo
View

Plugins-40 Combo Pack for Osclass (plugins-40)
Plugins-40 Combo Pack



Description : In this Plugins-40 Pack we are offering you all usefull Osclass Plugins at very low price compatible with all osclass version and themes . You can use any plugins from below list according to your site. You dont need to invest on single plugin. We are giving this special plugins combo pack of 40 Plugins.
Plugins-40 Combo List :
1) Auto post on twitter
2) User Online
3) Auto Post on Facebook
4) Facebook Comment
5) Sticky Social Sharing
6) Intro Tour
7) Seller Verified
8) Advanced Counter
9) Simple News Ticker
10) Premium News Ticker
11) Auto Increase SEO
12) All in One SEO with Sitemap
13) Tap Notification
14) News With Media
15) Meta SEO Plugin
16) MODERATE ITEMS PLUGIN FOR OSCLASS
17) Fortumo
18) Market Price Discount
19) List Time Ago
20) Item Duration by Month
21) Item Duration by Day
22) Ads Renewel
23) View Seller Listing
24) GEO Location
25) Social Login and Many More ...


Special Note : After payment confirmation we will mail you all 40 Plugins in Zip Format on your registered mail id.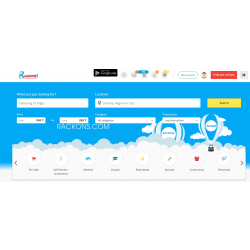 Start Your Classified Site Like Rackons.com at Low Price (rackonsdotcom-without-app-pack)
Start Your Classified Site Like Rackons.com at Low Price

Good News for Classified users, Rackons has started new plan for startup who want to start own classified company. Now, you can start your own classified business with us. we will provide you full classified package same as Rackons.com .
This package will include :
└ Look and feel like Rackons.com include 1 Theme created by Rackons Market only ( Classyera, Rackons, Google, Facebook, Map Based theme Only).

└ 20+ Plugins i.e : AutoPost Twitter, Digital Counter, User Online, Social Login, Favourite Items, Sitemap, Rating, Payment, etc

└ Full Advanced SEO not any SEO Plugin.


Note :
1) You need to provide us : domain name, and hosting details.
2) Duration : 3-5 Working Days.