Search
Search Criteria
Products meeting the search criteria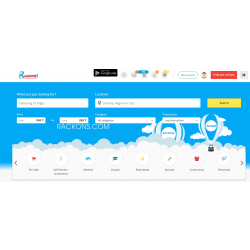 Start Your Classified Site Like Rackons.com at Low Price (rackonsdotcom-without-app-pack)
Start Your Classified Site Like Rackons.com at Low Price

Good News for Classified users, Rackons has started new plan for startup who want to start own classified company. Now, you can start your own classified business with us. we will provide you full classified package same as Rackons.com .
This package will include :
└ Look and feel like Rackons.com include 1 Theme created by Rackons Market only ( Classyera, Rackons, Google, Facebook, Map Based theme Only).

└ 20+ Plugins i.e : AutoPost Twitter, Digital Counter, User Online, Social Login, Favourite Items, Sitemap, Rating, Payment, etc

└ Full Advanced SEO not any SEO Plugin.


Note :
1) You need to provide us : domain name, and hosting details.
2) Duration : 3-5 Working Days.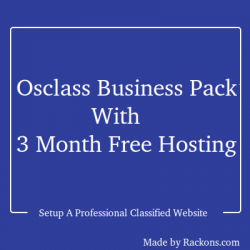 Osclass Business Pack with 3 Month Free Hosting (osclass-business-pack-with-hosting)
Osclass Business Pack with 3 Month Free Hosting

In this Pack, we offering you full classified package with 3 Month Free Hosting Plan.
1. Theme : ClassyEra Theme ($39.00)
2. Plugins : - Social Login ($20.00)
                   - Payment Plugin ($20.00)
                   - Auto Post on Twitter ($15.00)
                   - Sticky Social Share ($10.00)
                   - Seller Verified ($15.00)
                   - One SEO Plugin ($20.00)
                   - Sitemap Plugin ($10.00)
3. Three Month Free Hosting ($35)  -
 Features :
Host Three Websites
Unlimited Disk Space
Unlimited Transfer
Unlimited Email(s)
Unlimited Bandwidth
Unlimited Sub-Domains
Unlimited Email Accounts, Forwarders, Auto Responders
Unlimited FTP Accounts
Unlimited MySQL Databases
Full Live Chat Support

One Script Installer
Note : After Payment Confirmation your hosting will be activate within 24 Hours. And Your theme and plugins will be send on your registered mail id.