Osclass App
- Focus Native Android App for Osclass
- Web View Android App For Osclass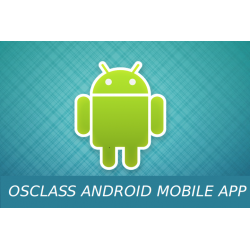 Osclass Android Mobile Web View App (app_osclass_rackons)
The first ever,

Osclass Android App

is here. Get it today!
Osclass Mobile App, the first mobile app made for Osclass

List of features
Home
Publish An Ad
User Register/Login
Search
My Account
Terms and conditions, Privacy Policy, Listing Policy (Note: These pages when you will provide us then we will display on app)
User Profile
Contact
If you need a custom development, with more features, drop us a line admin@rackons.com .
RSS (Not Mandatory)
English language
Special :

Earn Ad money with embeded y

our own Google Adsense or Admob.



User need to provide us after make payment :

App Name
App Icon
Notification Icon
header image (512x288)
Website Url
Company Logo
Demo Username and Password
Feedback Email
Support Link
Google Analytics Code
Admob Code : Banner Ad Unit ID, Interstitial Ad Unit ID
Color Available : Black, Grey
NOTE: Source code is not distributed, We will provide you only .APK file , We will Not Provide App Dashbaord or Admin .

IMPORTANT NOTICE : SOME THIRD PARTY PLUGINS like WhatsApp Share, WhatsApp, Google + Login will not work on Osclass Android App. So please check that before buy app from us
View